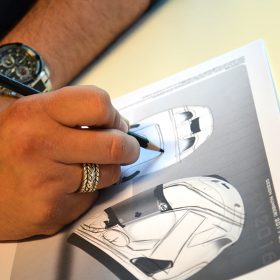 Handmade is the term but what is handmade? The dictionary say the following:
handmade
/han(d)ˈmeɪd/
adjective
adjective: handmade; adjective: hand-made
made by hand, not by machine, and typically therefore of superior quality.
With the term handmade we really mean made with the hand. At SLGrafics, quality and safety is our highest priority and to achieve this, we work with the finest products. All our designs are made and painted with our own hands.

We take the following steps to make your dream come true.
-First we kindly ask you to contact us with your ideas. Tell us the style you are looking for, what colours you have in mind and what colours and shapes you want. If possible we ask you to send us pictures of your ideas.
-When we have received your ideas we can give you an idication of the costs.
-When you agree to it we will start to make 2 digital designs and we will email them to you.
-You will then be given three opportunities to make changes without any extra costs.
-When we both agree on the final design, we ask you to send us your helmet and at the same time we wil send you an invoice for a 50% down payment
– When we have received the helmet and the down payment we will send you a confirmation and we will start the process of spray painting your design on the helmet.
-It will take us 4-6 weeks to make your dream design.
-When the helmet is ready, we will send you pictures of it. Then you will receive the invoice for the payment of the remaining 50% and we will send you your helmet.
We are sure that the explanation above will give you a better understanding of how we work and how we make dreams come true.